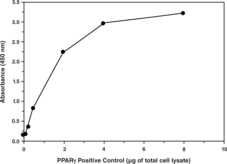 Cat. Number

702091666921073

Chemical Name

PPARγ Transcription Factor Assay Kit

References

| | |
| --- | --- |
| Synonyms | Peroxisome Proliferator-activated Receptor γ Transcription Factor Assay Kit |
| Stability | 6 months |
| Storage | -80°C |
| Shipping | Dry ice |

Background Reading

Olefsky, J.M. Nuclear receptor minireview series. J Biol Chem 276(40) 36863-36864 (2001).

Kersten, S., Desvergne, B., and Wahli, W. Roles of PPARs in health and disease. Nature 405 421-424 (2000).

Sakamoto, J., Kimura, H., Moriyama, S., et al. Activation of human peroxisome proliferator-activated receptor (PPAR) subtypes by pioglitazone. Biochem Biophys Res Commun 278 704-711 (2000).

Usui, S., Suzuki, T., Hattori, Y., et al. Design, synthesis, and biological activity of novel PPARγ ligands based on rosiglitazone and 15d-PGJ2. Bioorg Med Chem Lett 15 1547-1551 (2005).

Vidal-Puig, A., Jimenez-Linan, M., Lowell, B.B., et al. Regulation of PPAR γ gene expression by nutrition and obesity in rodents. J Clin Invest 97 2553-2561 (1996).

Clark, R.B. The role of PPARs in inflammation and immunity. J Leukoc Biol 71 388-400 (2002).

Show all 6 Hide all but first 3

| Size | Global Purchasing |
| --- | --- |
| 96 wells | |

Description

Peroxisome proliferator-activated receptors (PPARs) are ligand-activated transcription factors belonging to the large family of nuclear hormone receptors. There are three subtypes, PPARα, β/δ, and γ, which are expressed at variable levels in different tissues.1 The Cayman Chemical PPARγ Transcription Factor Assay is a non-radioactive, sensitive method for detecting PPARγ binding activity in nuclear extracts. A 96-well enzyme-linked immunosorbent assay (ELISA) replaces the cumbersome radioactive electrophoretic mobility shift assay (EMSA). A specific double-stranded DNA (dsDNA) sequence containing the peroxisome proliferator response element (PPRE) is immobilized onto the wells of a 96-well plate. PPARs contained in a nuclear extract bind to the PPRE and PPARγ is selectively detected using a specific primary antibody. A secondary antibody conjugated to HRP is added to provide a sensitive colorimetric readout at 450 nm.

1 Olefsky, J.M. Nuclear receptor minireview series. J Biol Chem 276(40) 36863-36864 (2001).