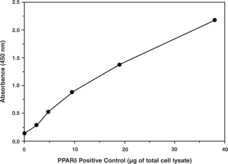 Cat. Number

702030871473381

Chemical Name

PPARδ Transcription Factor Assay Kit

References

| | |
| --- | --- |
| Synonyms | Peroxisome Proliferator-activated Receptor δ Transcription Factor Assay Kit |
| Stability | 6 months |
| Storage | -80°C |
| Shipping | Dry ice |

Background Reading

Willson, T.M., Brown, P.J., Sternbach, D.D., et al. The PPARs: From orphan receptors to drug discovery. J Med Chem 43(4) 528-550 (2000).

Wang, Y., Lee, C., Tiep, S., et al. Peroxisome-proliferator-activated receptor δ activates fat metabolism to prevent obesity. Cell 113 159-170 (2003).

Gervois, P., Torra, I.P., Fruchart, J., et al. Regulation of lipid and lipoprotein metabolism by PPAR activators. Clin Chem Lab Med 38(1) 3-11 (2000).

Olefsky, J.M. Nuclear receptor minireview series. J Biol Chem 276(40) 36863-36864 (2001).

Smith, S.A. Peroxisomal proliferater-activated receptors and the regulation of lipid oxidation and adipogenesis. Biochem Soc Trans 25 1242-1248 (1997).

Chawla, A., Repa, J.J., Evans, R.M., et al. Nuclear receptors and lipid physiology: Opening the x-files. Science 294 1866-1870 (2001).

Show all 6 Hide all but first 3

| Size | Global Purchasing |
| --- | --- |
| 96 wells | |

Description

Peroxisome proliferator-activated receptors (PPARs) are ligand-activated transcription factors belonging to the large family of nuclear hormone receptors. There are three subtypes, PPARα, β/δ, and γ, which are expressed at variable levels in different tissues.1 Cayman's PPARδ Transcription Factor Assay is a non-radioactive, sensitive method for detecting PPARδ binding activity in nuclear extracts. A 96-well enzyme-linked immunosorbent assay (ELISA) replaces the cumbersome radioactive electrophoretic mobility shift assay (EMSA). A specific double stranded DNA (dsDNA) sequence containing the peroxisome proliferator response element (PPRE) is immobilized onto the wells of a 96-well plate. PPARs contained in a nuclear extract bind to the PPRE from which PPARδ is selectively detected using a specific primary antibody. A secondary antibody conjugated to HRP is added to provide a sensitive colorimetric readout at 450 nm.

1 Olefsky, J.M. Nuclear receptor minireview series. J Biol Chem 276(40) 36863-36864 (2001).