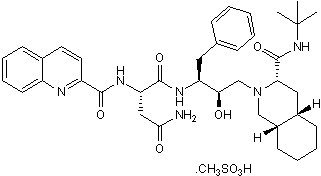 Cat. Number

JT4418

Chemical Name

Saquinavir mesylate

CAS Number

149845-06-7

Category

Proteases

Mol. Formula

C38H50N6O5.CH4O3S

Mol. Weight

766.95

Qty 1

10mg

Qty 2

50mg

Application Notes

>99%

Synonym

Ro 31-8959

(2S)-N1-[(1S,2R)-3-[(3S,4aS,8aS)-3- [[(1,1-dimethylethyl)amino]carbonyl]octahydro-2(1H )-isoquinolinyl]-2-hydroxy-1-(phenylmethyl)propyl] -2-[(2-quinolinylcarbonyl)amino]butanediamide methanesulfonate

Solubility

Soluble to 50 mM in DMSO

Storage condition

Store at +4°C

References

Inhibitor of human immunodeficiency virus (HIV) protease (Ki values are <0.1 and 0.12 nM for HIV-2 and HIV-1 protease respectively). Exhibits high antiviral activity and low cytotoxicity.

References:
Roberts et al (1990) Rational design of peptide-based HIV proteinase inhibitors. Science 248 358. PMID: 2183354.

Krausslich et al (1992) Specific inhibitor of human immunodeficiency virus proteinase prevents the cytotoxic effects of a single-chain proteinase dimer and restores particle formation. J.Virol. 66 567. PMID: 1727499.

Tucker et al (1992) A series of potent HIV-1 protease inhibitors containing a hydroxyethyl secondary amine transition state isostere: synthesis, enzyme inhibition, and antiviral activity. J.Med.Chem. 35 2525. PMID: 1635054.

Kaldor et al (1995) Isophthalic acid derivatives: amino acid surrogates for the inhibition of HIV-1 protease. Bioorg.Med.Chem.Lett. 5 721.